At SuperScale, we're proud of our reputation for growing games. Certainly our results speak for themselves. What sometimes needs explaining is exactly what kind of company we are. People often ask if we're an agency for example.
That's understandable, as some of our services do cross over. Look closer, and you'll see our approach is different. We're big fans of agencies and partner with them sometimes, which can work really well. But fundamentally, we're different.
Where agencies tend to have a specialism like UA, for example, we look at the best opportunities for growth overall. Whether it's monetization, marketing, LiveOps or a mix – we develop the best revenue-boosting strategies for your game as a whole, then take targeted action to make it happen.
We think of it as Publishing as a Service – all the technology and expertise you need to get the highest returns from your game. These can work alongside your in-house team or agency, or as a complete service, depending on what you need.
Every one of our clients is different and it's this flexible approach that has allowed us to work with some of the world's leading mobile and Web3 publishers.
The centrepiece is our SKAN-enabled predictive dashboards. We've developed these not just to measure campaigns, but to help uncover the revenue-growing tactics that could be working harder for you.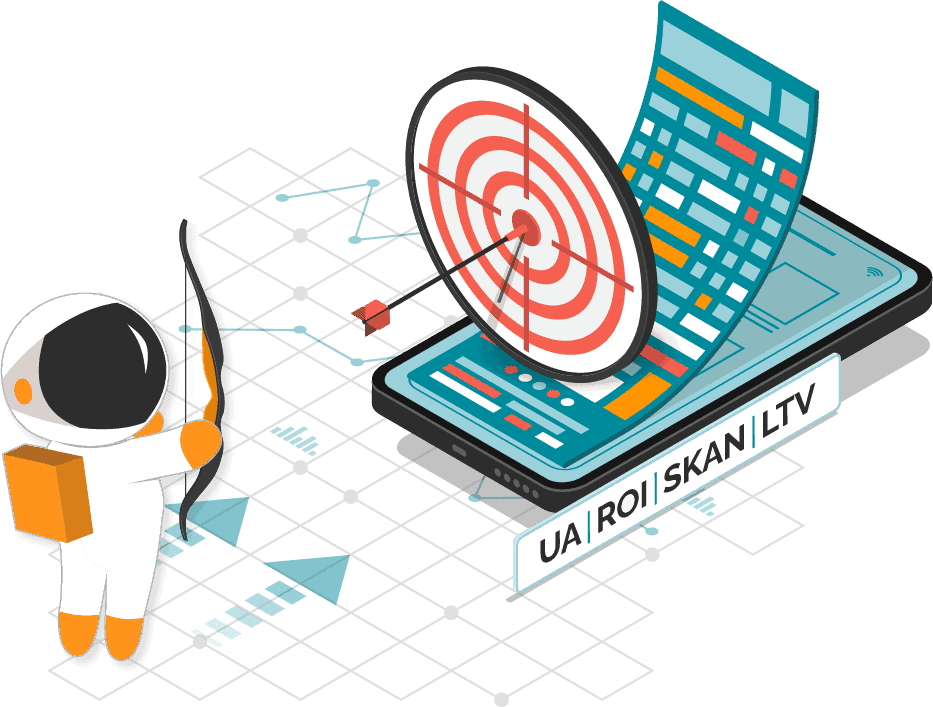 Our granular views and excellent SKAN data quality mean you don't just know which creatives are working, you can also fine tune strategies to focus on lifetime value (LTV), retention and so on. This is hard to do post-IDFA, and we've made it our business to give our clients this deeper view. So growing your game is more sure, cost-effective and sustainable.
We're so confident in our predictive ROAS and LTV models that we offer our Data Platform as a standalone solution. So games owners and agencies can use it and harness revenue that would otherwise be left on the table.
It's also what we use to run our free 3-month performance evaluation, helping developers and studios find hidden value in their current portfolio. We simply plug in key data sources and our custom ETL (extract, transform and load) solution highlights which actions can unlock the most revenue. It's a very simple process. You don't need to do anything, just let our team set it up for you.
We also offer clients a dedicated team of experts with decades of gaming, data and marketing knowledge. We estimate it's the equivalent of adding up to 5 people to your team. These experts give you regular updates so you have full transparency on KPIs alongside actionable ideas, tailored to your objectives. It's how we get that extra ROI.
All our game growing services start with our Data Platform, so that's always included. We also offer a range of other services, including
Bespoke post-IDFA growth strategy
LTV growth
Campaign creation, optimization and reporting
Premium creative production (2D, 3D and video)
ASO on iOS and Android
Social media management
And more (just ask!)
So that's it. We work with game owners and developers, but we're not an agency; we create and run campaigns, but we do a lot more. You can call us a publishing or acceleration toolkit or service. Or feel free to keep it simple. When people ask you what SuperScale does, you can tell them the one thing we exist for, that gets us out of bed in the morning…
We grow games.