Calling mobile game publishers and developers.

Supercharge your monetization strategy and maximize your earnings with our latest eBook. Packed full of expert tips and real-world examples, it'll help you boost your revenue streams – starting today.
Page previews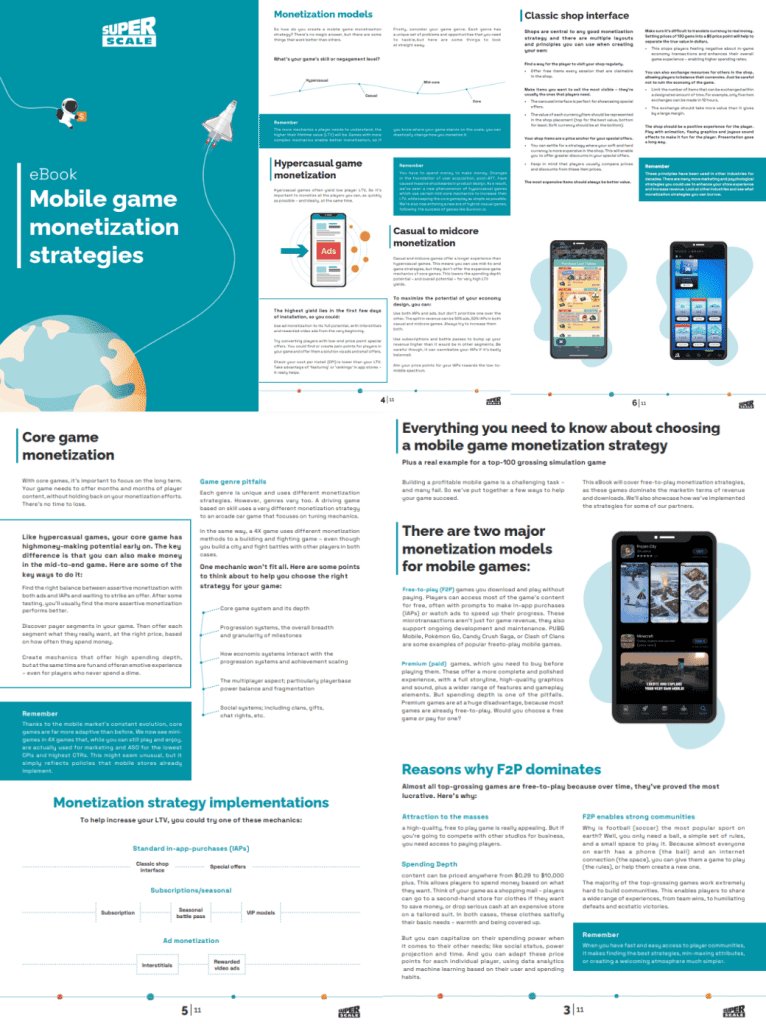 Text previews
Everything you need to know about choosing a mobile game monetization strategy
Building a profitable mobile game is a challenging task – and many fail. So we've put together a few ways to help your game succeed.
This eBook will cover free-to-play monetization strategies, as these games dominate the market in terms of revenue and downloads. We'll also showcase how we've implemented the strategies for some of our partners.
There are two major monetization models for mobile games:
Free-to-play (F2P) games you download and play without paying. Players can access most of the game's content for free, often with prompts to make in-app purchases (IAPs) or watch ads to speed up their progress. These microtransactions aren't just for game revenue, they also support ongoing development and maintenance. PUBG Mobile, Pokémon Go, Candy Crush Saga, or Clash of Clans are some examples of popular free-to-play mobile games.
Premium (paid) games, which you need to buy before playing. These offer a more complete and polished experience, with a full storyline, high-quality graphics and sound, plus a wider range of features and gameplay elements. But spending depth is one of the pitfalls. Premium games are at a huge disadvantage, because most games are already free-to-play. Would you choose a free game or pay for one?
Why free-to-play dominates monetization
Almost all top-grossing games are free-to-play because over time, they've proved the most lucrative. Here's why:
Mass appeal
A high-quality, F2P game is really appealing. But if you're going to compete with other studios for business, you need access to paying players.
Spending depth
Content can be priced anywhere from $0.29 to $10,000 plus. This allows players to spend money based on what they want. Think of your game as a shopping mall – players can go to a second-hand store for clothes if they want to save money, or drop serious cash at an expensive store on a tailored suit. In both cases, these clothes satisfy their basic needs – warmth and being covered up.
But you can capitalize on their spending power when it comes to their other needs; like social status, power projection and time. And you can adapt price points for each individual player, using data analytics and machine learning based on their user and spending habits.
F2P enables strong communities
Why is football (soccer) the most popular sport on earth? Well, you only need a ball, a simple set of rules, and a small space to play it. Because almost everyone on earth has a phone (the ball) and an internet connection (the space), you can give them a game to play (the rules), or help them create a new one.
The majority of the top-grossing games work extremely hard to build communities. This enables players to share a wide range of experiences, from team wins, to humiliating defeats and ecstatic victories.
Remember
When you have fast and easy access to player communities, it makes finding the best strategies, min-maxing attributes, or creating a welcoming atmosphere much simpler.
Monetization models
So how do you create a mobile game monetization strategy? There's no magic answer, but there are some things that work better than others. Firstly, consider your game genre. Each genre has a unique set of problems and opportunities that you need to tackle, but here are some things to look at straight away.
What's your game's skill or engagement level?
Hypercasual
Casual
Mid-core
Core
Remember
The more mechanics a player needs to understand, the higher their lifetime value (LTV) will be. Games with more complex mechanics enable better monetization, so if you know where your game stands on the scale, you can drastically change how you monetize it.
Hypercasual game monetization
Hypercasual games often yield low player LTV, so it's important to monetize all the players you can, as quickly as possible – and ideally, at the same time.
The highest yield lies in the first few days of installation, so you could:
Use ad monetization to its full potential, with interstitials and rewarded video ads from the very beginning.
Try converting players with low-end price point special offers. You could find or create pain points for players in your game and offer them a solution via ads and small offers.
Check your cost per install (CPI) is lower than your LTV.
Take advantage of 'featuring' or 'rankings' in app stores – it really helps.
Remember
You have to spend money to make money. Changes in the foundation of user acquisition, post-ATT, have caused massive shockwaves in product design. As a result, we've seen a new phenomenon of hypercasual games which use certain mid-core mechanics to increase their
LTV, while keeping the core gameplay as simple as possible. We're also now entering a new era of hybrid-casual games, following the success of games like Survivor.io.
Whether you're new to game monetization, or you're looking to brush up your skills, you'll find everything you need here. Download the full eBook using the form below.