Our secret
In December 2022, we managed to break an inconceivable monthly revenue record for a decade-old portfolio, NimbleBit. This record had stood for 8 years and was set near its infancy stage in its now 10+ year existence.
The implementation of SuperScale's Legacy Game Management solution helped revive the stagnating game, increasing its revenue by 400% and smashing the previous all-time revenue record. During this period, DAU also dramatically increased by more than 40%. If the revenue generated is aggregated yearly, the profit would be in the millions of dollars.
This unparalleled success for a 10-year-old game is a testament to the ingenuity of Nimblebit's game design and SuperScale's mission to realize the full potential of games.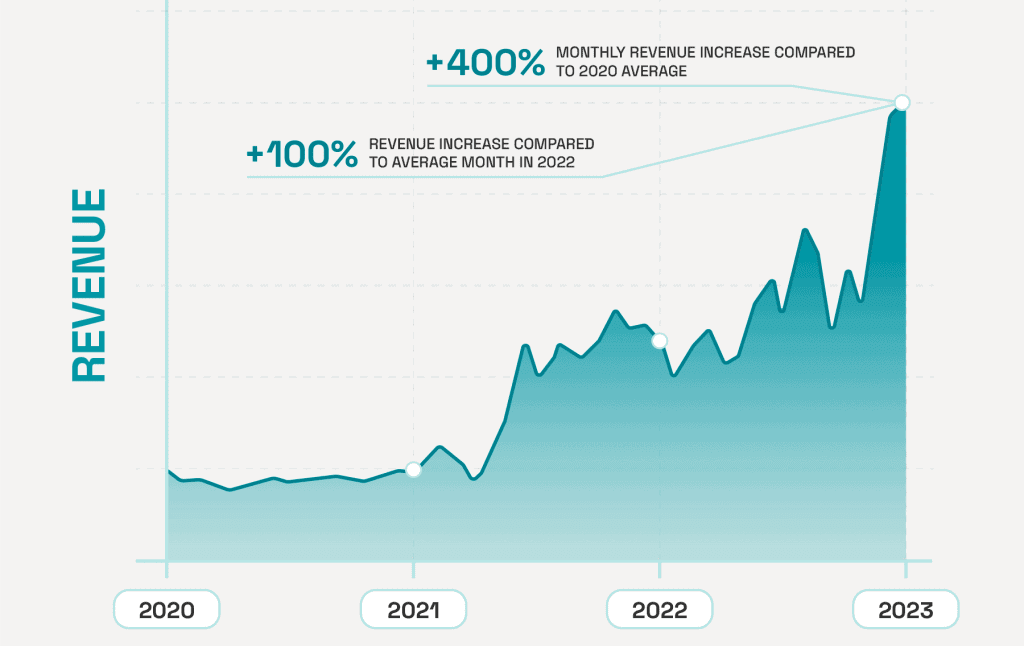 To elaborate on our method, we began by ensuring that we had our SKAN-enabled dashboards on which to base all of our creative tests. This helped us to make our strategic decisions based on the cleanest and most reliable data available post-IDFA.
We then tested a variety of creatives across different UA channels including Facebook, Applovin, and UAC. The LTV forecasting and ROAS models helped us determine which channels were most profitable and gave us the expected profits for each cohort.
On top of this, we also ran a festive live-ops event in December which combined monetization and retention mechanics to incentivize purchases and reward players with in-game goods and cosmetics.
Having confidence in your predictive models and data is what matters most, which is not true for many studios / publishers, and believe it or not, you don't need a large in-house data team to accomplish this.
So if you are struggling with UA, lack data confidence, or want to discover how you can breathe life into a stagnating game, then get in touch for a 15-minute call.