Introduction to NimbleBit
Having been on the market for over 10 years, NimbleBit is one of the pioneers of the F2P model in mobile games. The company has developed successful games with tens of millions of players and works with leading global brands such as LEGO. As well as developing original games, NimbleBit also publishes and grows third-party games meaning they are well regarded as one of the most established companies in the gaming industry.
Objective: To help NimbleBit re-invigorate their loved, yet stagnating legacy game portfolio.

With Tiny Tower having such a loyal community, any changes to the game had to be delicately implemented with the community being front of mind. The first stages of implementation consisted of creating a roadmap of deliverables for the LiveOps team, discovering the 'quick wins' and updating analytical SDKs (software development kits) to help assess the current metrics within the game.
Tiny Tower LiveOps implementation & monetization improvements
SuperScale discovered and unlocked significant revenue from monetization changes. Once these changes were implemented (see point 1), both ads/DAU and ad conversion drastically improved, tripling the ad revenue from the previous baseline.
LiveOps were also another area of considerable improvement. After tweaking the game mechanics and implementing data tracking, SuperScale started to deliver custom-built special offers within the game. The previous resulted in an increase in long-term IAP revenue (begins on point 2) and a further increase in total revenue.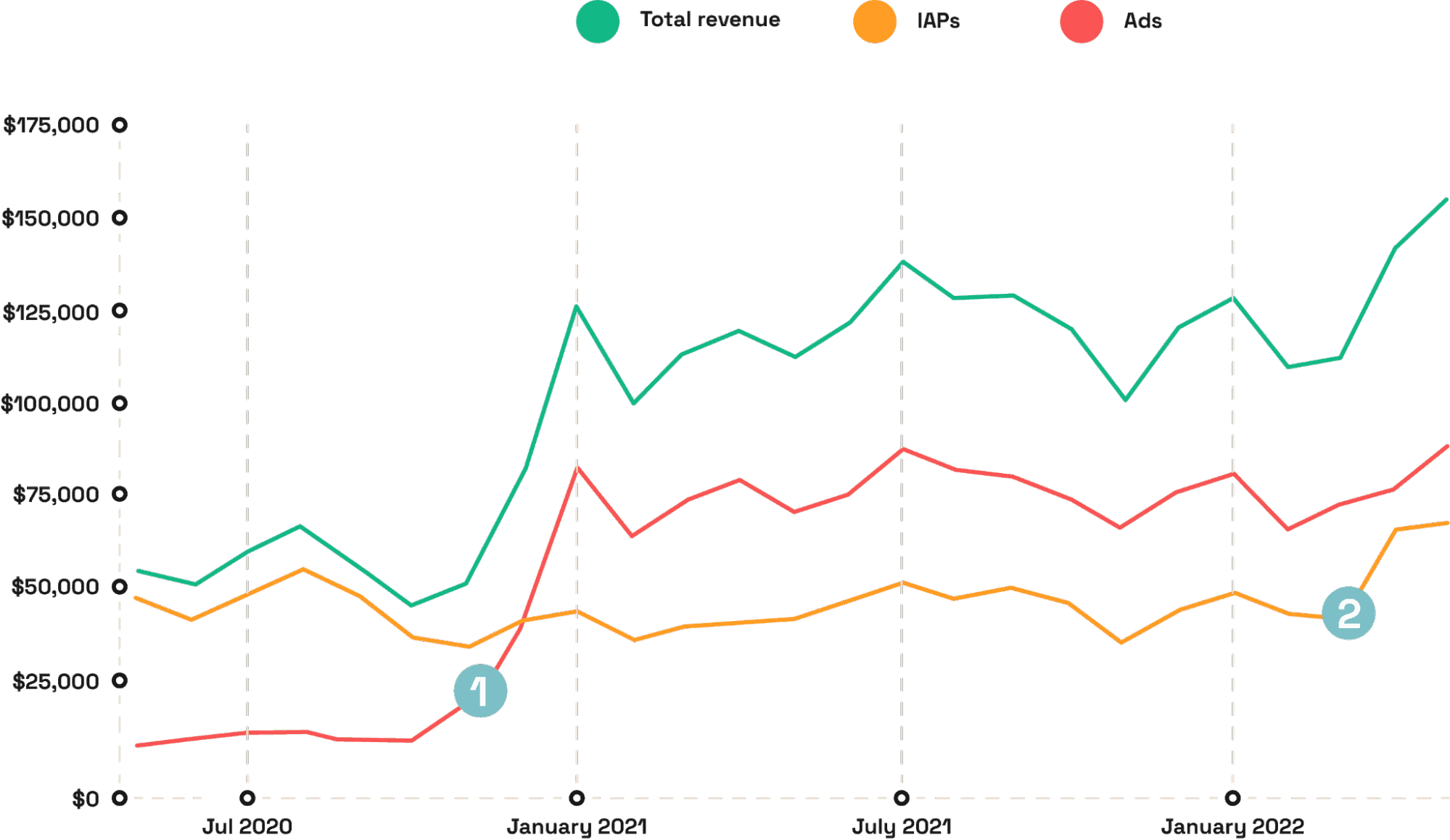 IAPs and Ads revenue development after SuperScale optimization
The long-term aim was to prepare an event system whereby individual events can rotate semi-automatically. The below shows two periods where in-game events were launched and you can see the revenue increasing by up to 300% at times.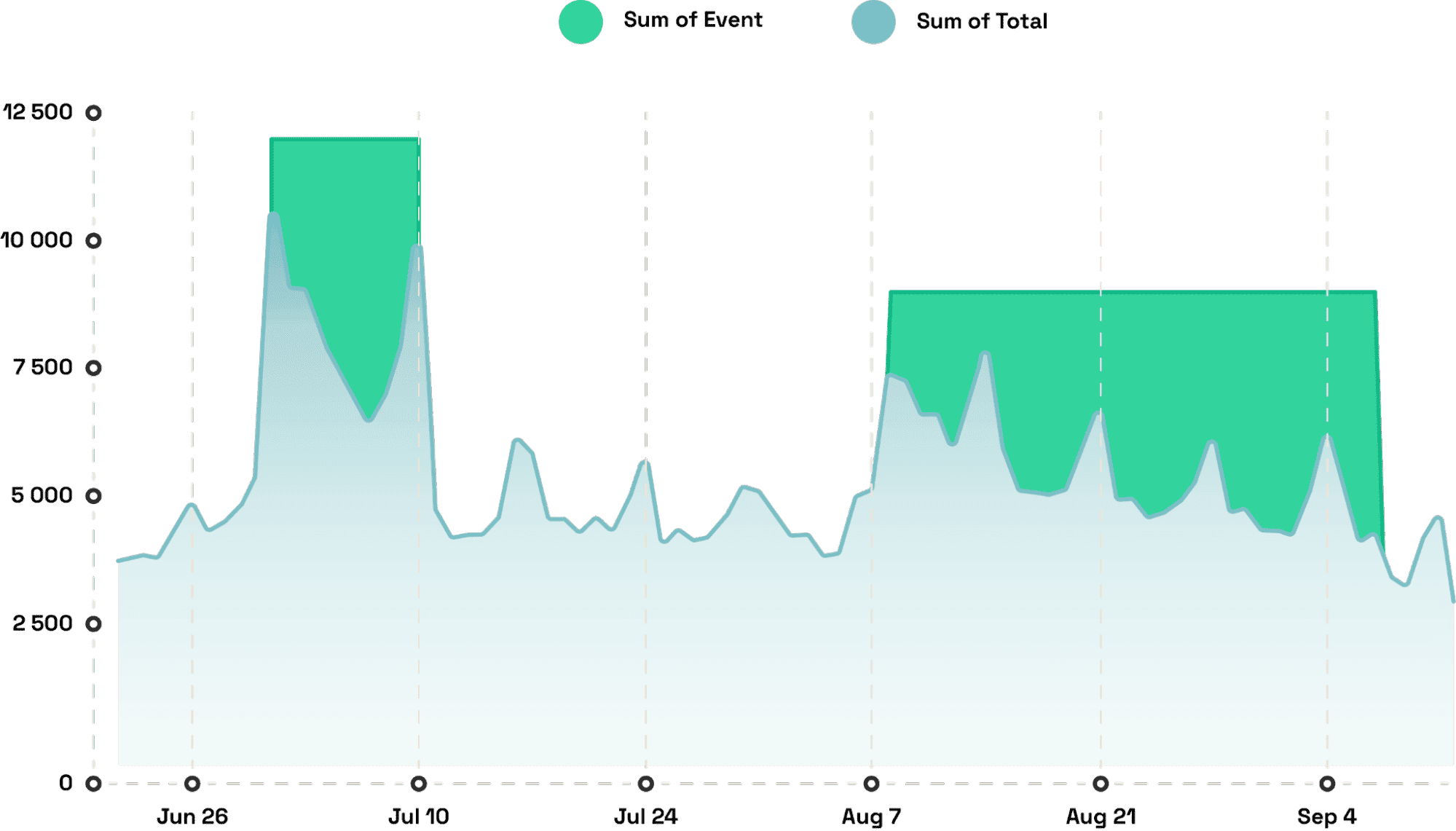 Total revenue during the event periods
How post-IDFA user acquisition (UA) strategies increased Tiny Tower's daily revenue by 59%
Before iOS scaling, SuperScale teams worked together on:
Correct SKAN implementation
Data health confirmation
Preparation of methods for valid evaluation of iOS UA performance
Creation of an optimal profitable UA channel mix
After all of the above-mentioned were prepared and implemented, the goal was to begin scaling in tier 1 countries. After successful SKAN implementation, SuperScale helped Tiny Tower scale profitably on the iOS platform through multiple UA channels.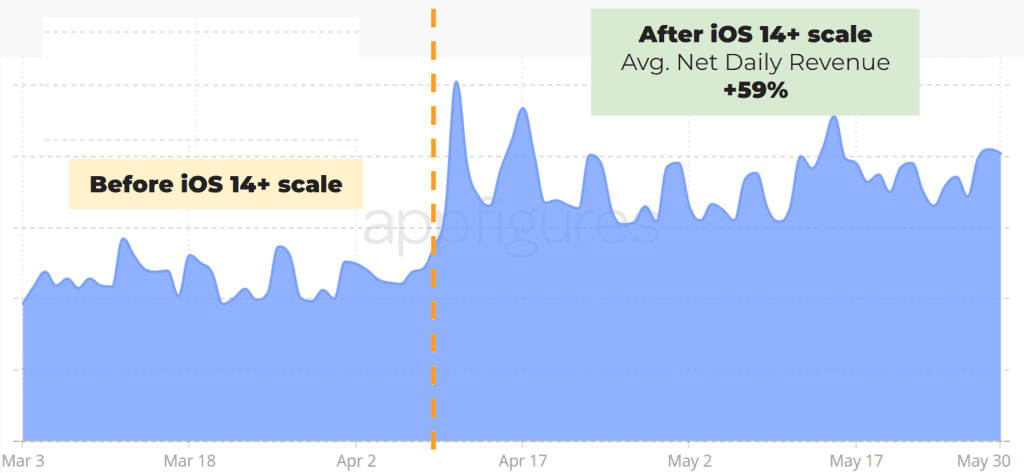 How ASO improvements drastically improved Tiny Tower's Google Play Store ranking
SuperScale spent the first month looking at several factors relating to ASO including:
Competitor analysis: Looking at the frequency of ASO updates and A/B tests
Keyword research: Short and long descriptions as well as title changes
Creative angle research of screenshots, icons and featured graphics
Store localization opportunities
Rankings across different categories and similar app visibility
Through this complex analysis, SuperScale's Growth Marketing team came up with a number of ways to increase organic traffic on the Google Play Store. ASO updates that yielded positive results included optimizing the app name, screenshots and store listing localization. However, the biggest impact on traffic was seen through keyword analysis and implementing long and short descriptions.

NimbleBit's results after using SuperScale's Legacy Game Management solution
With the task of rejuvenating the Tiny Tower game being as large as it was, SuperScale managed to increase several KPIs across multiple fronts:
+151% Overall revenue growth: $4.5m
4x eCPM increase
+25% Rewarded video conversion increase (absolute)
+30% Revenue within the first three months of LiveOps (not short-term spikes, but a general increase of the revenue)
+32% DAU
D90 100% ROAS
+100 Positions jump in App Store category rankings
+706% Google Play Explore traffic
+24% Google Search traffic
+0.9% Conversion rate (organic)