As of 2023, there are thought to be around 6.8 billion smartphone users globally. And in 2022, there were 255 billion mobile app downloads around the world. That's more than an 80% rise from the 140.7 billion app downloads measured for 2016.
In an extremely short space of time, mobile apps have become seriously big business – and those within the industry will know the competition is intensifying (even if the market has slowed in recent times).
So, it shouldn't be a surprise that a greater spotlight has been shone on app store optimization, or ASO, in recent times. It could be crucial for developers seeking to get their app noticed when someone searches the iOS or Android app store. Getting ASO right is a strong way to support the sustained long-term growth of a mobile game.
What is app store optimization for mobile games?
An easy way to understand app store optimization is to think of it as a sort of "search engine optimization for app stores". Indeed, app store optimization has often been referred to as "app store SEO".
This comparison makes sense, as there are quite a few areas of overlap between ASO and traditional SEO. In much the same way as internet marketers use SEO to get their webpages to rank higher in Google's (or other search engines') search results for relevant terms, the aim of ASO is to get a given game / app to rank higher in the app store search results.
App stores can also be considered a sort of closed-site search engine, dependent on search indexation in much the same way as a traditional search engine is.
Search engines like Google, of course, have an algorithm to determine which web pages in the rankings appear higher than others for certain search terms. Similarly, an app store like the Apple App Store needs to use an algorithm to determine which apps are placed highest in their own search rankings, based on factors like perceived app quality and freshness.
ASO is about applying the techniques necessary to get an app / mobile game as high as possible in the app store search results.
What are the benefits of app store optimization?
Continuing the parallel with SEO, in much the same way as an e-commerce store will likely attract more relevant traffic and achieve the sales it needs to grow if it is ranked strongly for relevant terms in the search engines, effective ASO can have similar benefits for a mobile game.
In both cases, higher rankings in the search results help to boost visibility and exposure to human users who have searched for relevant terms. So, if you get your app store optimization approach right, you will be able to get your mobile game in front of people with high intent to download and play your game.
That will in turn, tends to translate into a greater number of organic app downloads, lower user acquisition costs, and more predictable and steady growth for your mobile game.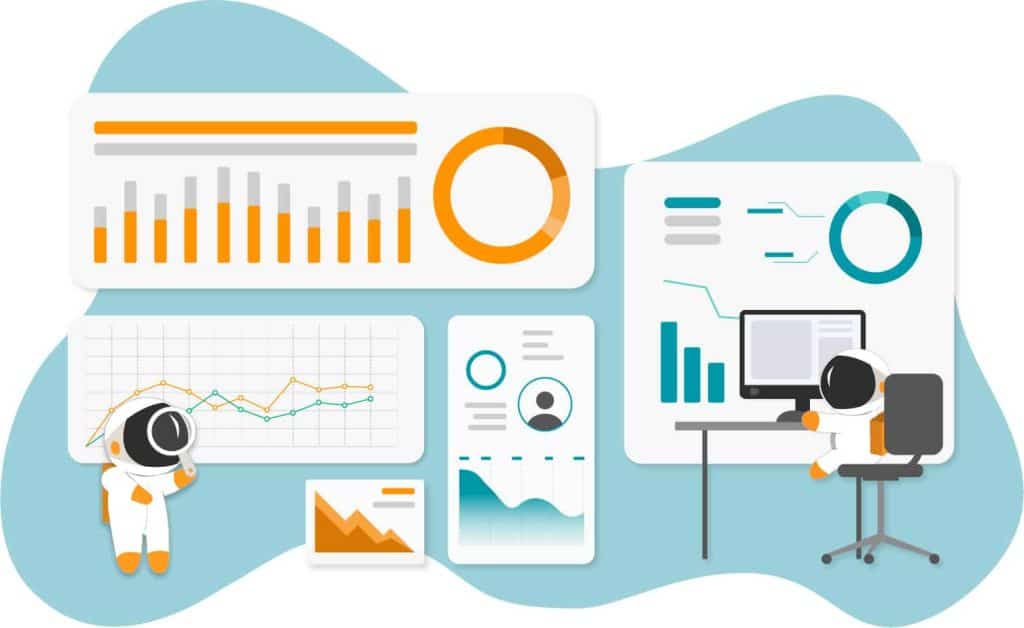 Is ASO better than paid marketing for mobile games?
You might be wondering how essential app store optimization could possibly be if you have the option of simply spending money on ads. After all, paid marketing – which involves using ad networks like Google UAC and Meta to spread the word about an app or game – is a proven way to quickly attract targeted traffic to your game.
However, it is wrong to presume that promoting your mobile game effectively will be a question of choosing directly between paid marketing and organic marketing (with pay per click an example of the former, and ASO the latter). The two broad categories of marketing are complementary, and you will ideally need both in order to realize your mobile game's growth potential.
Organic marketing methods, for example, aren't just about ASO but also include activities like posting content about your mobile game on your website, or via social platforms like Twitter and Discord.
These organic techniques often take a while to implement, and you might not see meaningful results from them for months. But once you do start achieving those results – such as better rankings for your game in the Apple App Store – they can greatly support your game's growth over the long term.
Recent years have also seen the rise of Apple's App Tracking Transparency (ATT), which is a framework that asks users whether they want to be tracked by apps on their devices. With Apple's SKAN / SKAdNetwork prioritizing user privacy, if you depend on paid marketing over organic marketing, this might leave you with a lack of useful data for supporting your app's growth. 2022 is a great example of this with ad spending increasing by 14% but in-app spending down 5% i.e. more money has been spent on ineffective campaigns.
How to properly execute an app store optimization strategy
As is the case with the algorithms used by traditional search engines like Google, there is a lot that we don't know about how the algorithms for Apple's App Store and other app stores work. Even if we did know more, these algorithms are subject to constant change.
However, ASO has matured as a field over the years, and certain things are known to help make a significant difference in app store rankings.
The following steps are likely to be key to your app store optimization approach:
Be both descriptive and concise with the title of your app
The title that your game has in your chosen app store won't just impart (hopefully) useful information to potential players – it can also play a strong role in your ASO.
It was easier to be descriptive with the titles of apps in the Apple App Store, back in the days when a 255-character limit was in place. Apple has since shortened that to just 30 characters, which makes it more challenging to come up with a title that is compelling, distinctive, and keyword-optimized. However, it's not an impossible task; getting the balance right is simply another part of the art of ASO.
Incorporate well-chosen keywords
You will need to research keywords for use in your game's app store listing, and decide on which ones to prioritize, based on factors such as search volume data, keyword relevancy, and how much competition there is for the keywords you're thinking of using.
With Apple only giving you 100 characters for all your keywords, you will need to choose wisely. And although you will want your selected keywords to be well-represented in your game's app store title and description, as with traditional SEO, you could get penalized if you try to cram in too many keywords – a practice known as 'keyword stuffing'.
So, it is vital to take a balanced approach in your use of keywords. The final text should read well and be genuinely useful and insightful for a human user – if it achieves that, while incorporating your chosen keywords in ways that feel natural, you will have probably struck the right balance.
Describe your mobile game in a clear and compelling way
If someone is sufficiently interested in your mobile game to have scrolled down to the description, you will probably have a big chance to convert them into a paying customer. So, you won't want to neglect your description, as if you fail to achieve such conversions, you will have effectively wasted the time and effort you put into the title and keywords.
Writing the perfect description for your app in the app store will be an art in itself. Remember that you won't be writing an essay here – the task is to seal the deal, so you should be concise and persuasive.
Also, don't assume the reader will know anything about your app before reading the description (besides what you already said in the title). So, answer the fundamental questions a customer is likely to have – including what kind of game your mobile app is, and what makes the game rewarding to play and worth downloading and paying for.
Get the visuals right in your app store listing
Successful app store optimization isn't just about the textual elements. Yes, the written copy in your app store listing will communicate crucial information to the human user at the same time as incorporating your carefully selected keywords.
You will also want to include visually appealing screenshots that draw attention to your game's key features and give the potential customer a good sense of what it will be like to actually play your game. Be sure to A/B test the creatives on your listing to help minimize guesswork when it comes to the best-performing screenshots.
Other ASO areas to consider
There are several factors that go beyond just visuals and keywords. Some of the more important ones include:
Localization – Something which is often overlooked because it can be time-consuming for games operating across a range of geos with different languages. 
Permissions – Game / app permissions should be as minimal as possible and should only request permissions necessary for the functionality
Ratings & Reviews – These speak for themselves, people trust people and so the more positive your ratings are, the better the game is portrayed to new users. Games should try to incentivize users to leave reviews – that is of course if community sentiment seems positive
What app store optimization services does SuperScale offer?
ASO is just one part of the all-around strategy that you will need to help realize your mobile game's growth potential. Nonetheless, you will be able to achieve the best results from your ASO efforts when you work alongside trusted experts.
SuperScale's expertise in keyword setup, the creative production of icons and screenshots, and overall ASO strategy will play a big part in your efforts to boost your mobile game's visibility and conversion rate. Contact us now to arrange a 15-minute introductory call.
---